Last week I dug deep into the Healthy Living eBook Bundle and my, what a treasure it is!  Here's a snippet review of my top picks in the Bundle. Sad you missed the sale? Check out the exciting announcement at the end of this post!
Stephanie's Healthy Homemaking is a great place to start, or even brush up on your understanding of the why's and how's of a green and nourishing lifestyle. Not a lot of the info in her book was new to me, but when I got to her chart on fats, "The Good, The Bad, and the Ugly" I realized it was worth the whole cost of the book! What to look for when choosing fats and how to use–and not use!–each fat, all in a tidy chart for easy reference. Definitely something to print and keep handy.
LeeAnne's book totally inspired my menu this week with her easy, 20 min. meals. We had Sloppy Joes for dinner last night and I'm making a modified version of her Skillet Lasagna for dinner tonight. I need meals like this in my tiny bus kitchen–easy and yummy!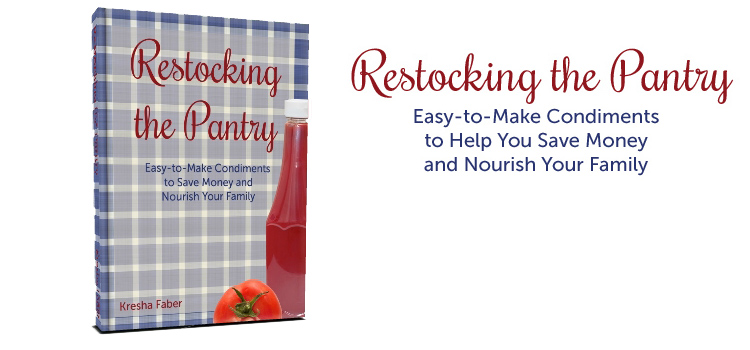 Kresha's book got me really excited–I can make my own Worcestershire sauce? Wow! She's got recipes for EVERYTHING and the content is beautifully presented and organized.
Perfect if you like making homemade Christmas gifts! I was thrilled to find a recipe for homemade lip balm. I've been saving containers to recycle for years–now I finally have a recipe to refill them with!
One of the most exciting books in the bundle to me–and one I have already recommend several times since reading it. I was encouraged to find that home is not the only place one can have a natural birth.  Jenny wisely and gracefully walks us through her journey to natural birth, and gives lots of practical advice for planning and experiencing your own natural birth in the hospital. Also? She contains links to further reading and resources.
OK, are your ready for the good news? If you missed the opportunity to grab this ebook bundle last fall, all of these titles are included in a fresh new bundle, available from April 29th to May 4th…Check out the list of 97 ebooks for just $29.97 HERE!