Today's recommended book is a cook book! Told you we'd have variety here! 🙂
One of my finds from the big, biannual library sale down in Ithaca, Monday is Meat Loaf has quickly made it to the top of my favorite cookbooks list. (Its companions being "Joy of Cooking", "Good Housekeeping's Illustrated Cookbook" and the "Holden Family Cookbook", that's high recommendation in itself!)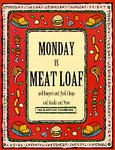 It's from The Everyday Cookbooks Series, making "meal planning just as as easy now as it was back then, but with tons of tempting variations on all those family favorites. Each book features 120 recipes – all sure-fire dishes made with common ingredients. And most take less than 30 minutes to prepare. Designed for easy, everyday use, The Everyday Cookbooks provide a wealth of ideas and inspiration for the way you live and eat today!"
I picked it up hoping to be able to find some recipes to add to my list of easy favorites. So far each of the recipes I've tried have proved to be just that – easy, and made from mostly basic ingredients already on hand. It's perfect for those times when I've forgotten to think about dinner until 4 pm (or later) , all I have to work with is a pound of ground beef, and I'm not in the mood for spaghetti. Most of the recipes can be made with what you have on hand from a well-stocked freezer and pantry, with maybe only one or two items to fetch from the store.
I've already made the Beef-and-Onion Shepard's Pie twice. The second time I made it, Olivia, Anneke, and Judah were over, and they gave it rave reviews – and if my 10 year old brother likes it, you know it's good! 🙂 I'm going to be real sweet and type out one the recipe for you here so you can get an idea of why I liked the book…
Beef and Onion Shepard's Pie
1 Lb. sweet potatoes
1 Tbsp. flour
2 Tbsp. paprika
3/4 tsp. ground ginger
3/4 tsp. salt
1/2 tsp. black pepper
1/8 tsp. allspice
3 medium onions, thinly sliced
1/2 Lb. mushrooms
1/2 c. beef broth
1 LB. ground beef
2 Tbsp. butter
2 tsp. brown sugar
preheat oven to 425. Line a baking sheet with foil. Cut a few short slits in the sweet potatoes for steam vents. bake the potatoes for 35 min, or until tender.
Meanwhile, combine flour, paprika, 1/4 tsp. of the ginger, the salt, pepper, and allspice in a small bowl and blend.
In a large skillet, brown ground beef and onions. Add the mushrooms and cook until they're softened, 2-3 minutes.
Stir in the seasoned flour and cook, stirring, until it is not longer visible, about 30 seconds. Add the broth and bring the moisture to a boil, stirring until thickened about 2 minutes. Remove from heat.
Remove sweet potatoes from the oven and preheat the broiler. Halve potatoes and scoop the flesh out into a medium bowl. Add the butter, brown sugar and remaining 1/2 tsp. ginger, and mash into the potatoes with a potato masher or a fork.

Transfer the beef mixture to an ovenproof skillet or shallow baking dish. Spoon the mashed potatoes around the rim of the skillet on top of the bee mixture. Broil the pie for 3-4 minutes, or until the topping is lightly browned the filling is heated through.
(I didn't use the mushrooms, and the original recipe called for cubed roast beef, but I changed it to ground beef. )
I am going to keep my eye out for the rest of the series, "Tuesday is Chicken", "Wednesday is Spaghetti", "Thursday is Pot Luck", and "Friday is Fish".