Although a post on fashionable maternity and nursing wear may not be applicable for many of our readers, it nevertheless falls within our goals to inspire each other to find a style and fashion that works for YOU – whatever season or body-shape God has given you. I hope a few of you can gain some inspiration from these tips I've collected during this pregnancy…
Dressing well as a mommy can be a challenge for many reasons – not as much time to shop, an environment that is hard on clothing, and of course, the ever-changing figure of a mommy! Here's a few things that have worked for me:
Tunics
My friend, Kim, first inspired me to add some tunics into my wardrobe. She's a mommy of 4 little ones, yet every time I see her she looks cute and comfy. Whether nursing or pregnant, a tunic covers a multitude of, well, whatever. 🙂 When nursing, it's a great cover-up for a blouse or shirt that's a bit too tight, while still giving easy nursing access. It's also good for all those in-between sizes we mommies have when we just can't find a pair of jeans that fit. Just cover it up!!!
Keep an eye out for tunics in the dress-row of the thrift store – often the cutest tunic looks can be created with a very short jumper. Here's a favorite of mine that I wore a lot last autumn – it's linen, from American Eagle, and I love it! Tunics are perfect for fall layering, too.
Baby Doll Tops

I find it delightful that empire waist and baby doll styles have come into fashion lately. Though I don't gravitate toward this style when I'm skinny, I love the variety and options it gives you when you have a little more going on around your waist. A a baby-doll blouse or shirt that falls below your waist lengthens your torso and helps minimize that extra weight. Some of my favorite shirts this pregnancy are not even maternity brands – just generous sizes of a cute empire-style shirt. Watch for styles made with drapey fabric, such as linen, rayon, or a knit – a stiffer cotton will only make you look and feel bigger than you are!
Layering
Of course, if you find a cute maternity top or other blouse, you may not have the luck of having it meet your preferences for necklines. So, you must layer. Down East Basics has a nice maternity selection of layering tanks, but I have found that my basic layering camis (I wear their size large) have worked for me all the way through this pregnancy so far – I'm wearing one as I write this at 33 weeks pregnant. They have a great resiliency and I love that solid layer under almost any outfit.
Don't forget the advantage of a comfortable supportive tank top when nursing – I plan on ordering several more to add to my wardrobe for the coming season.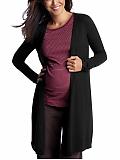 You can also add layers with outwear – and this doesn't have to be specifically maternity, either. I just found a lovely linen/cotton sweater at the thrift store, and I love its lengthening effect on my figure. Here's a similar sweater that Gap is selling.
Accessorize!
This is a frequent chant here on Fabulous Fashion Fridays, but it holds true for pregnancy as well. Do you feel that all people must see when they look at you is BELLY (or, another feature that you feel overwhelms your appearance)? Throw a scarf around your neck, or a couple of strands of beads. Put something in the 'foreground' that will grab attention and keep you from feeling that your belly is the loudest thing you're wearing.
As you can see, I have been outside of the box a bit with my maternity wardrobe, but I do have some favorite styles that actually fall within the category of maternity wear. I, myself, love the fit and feel of Old Navy's Low Rise styles,
and have been blessed enough to find a few pairs at the thrift store. But many prefer a more natural waist, or different waistlines for different days, depending on how they feel. I think that the new 'Secret Fit' waist band style by Motherhood may be the answer. You can pull it up or fold it down to wherever you want your waist to be! And it's soft and seamless.
I was excited to find a link on the SewMammaSew message board that led me to Sew Inspired's blog post on making her own 'Secret Fit' panel. I'm doing well with my wardrobe so far, but I think I will try this with the next one. The little maternity sewing I have had time for in this pregnancy was adding some soft elastic waists
to a few skirts, but this technique would make converting even jeans possible.
If you want to make your own maternity clothes, I also found a link to some really cute patterns that would work for nursing, pregnant, or just anytime. Check out Jaylee for some cute tops. Makes me wish I had more time to sew!
On my wish list – this loooong denim skirt from Motherhood. The skirts I wore all summer were short, frilly things, but now I am hankering for an ankle length denim skirt to feel cozy in with the onset of crisp weather. But I really can't justify buying it as I only have 6 weeks left, and my jeans are working fine. Oh, but it will be fun to have a waist and wear skirts again in a few months!!!
On my personal challenge list – figure out a pattern to make myself a dress like this from Boob Wear, with its " innovative double layer over the chest for beautiful fit and easy nursing." I miss dresses so much when I am nursing, but I tried one of these styles on in a lovely boutique in Vermont last winter and decided that this was the answer. I would have to figure out how to sew with knits…hmmm…
So, what's your favorite solution for pregnancy or nursing? I know there are a few of you in our readership who are in this season with me – got any tips to pass along?