As much as I adore my new locale, there's just one thing that had me asking myself "Why!? Why did I leave Upstate NY?!"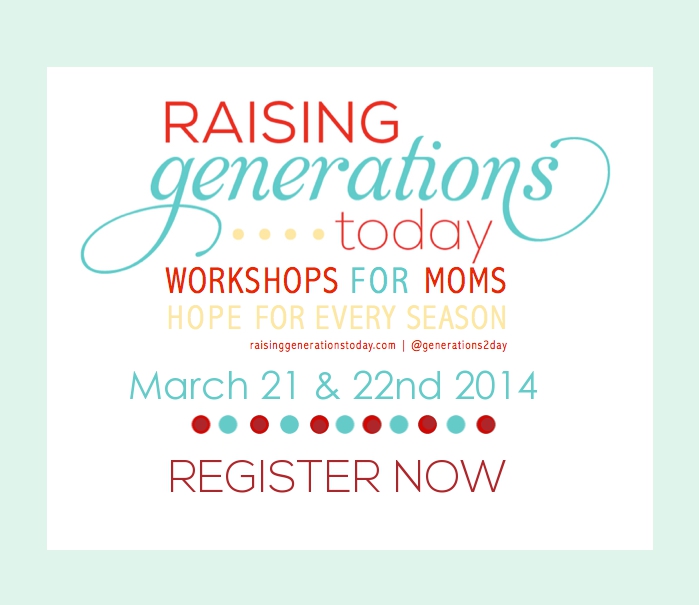 I also asked myself "Why, the year I move away, does an awesome conference finally come to the area–right to my old backyard?" Of all the conferences I've been to, this one promises to be the most focused on what is currently my biggest passion and also my area of greatest challenge: motherhood.
Oh, and did I mention, the gal hosting it is my very dear friend and mentor, September? Everything she does is filled with grace and compassion, and her impact on my life in the last two years has brought more joy and peace to my motherhood than I thought possible.
I was more than a tad disappointed that it looked like I'd miss this conference. But my Father, who knows the desires of my heart, surprised me last week when He made a way for me to go. Even though I now live 1000 miles away.
Excited doesn't begin to describe it. Yikes, I have to NOT think about it at bedtime or I can't sleep!
Raising Generations Today is an annual conference designed to equip and inspire moms to reach the hearts of their children for the glory of God.

The conference seeks to provide valuable resources, inspirational speakers, practical teaching materials, and multiple opportunities to connect with moms in every season of parenting.

Raising Generations Today seeks to offer hope to women so they may embrace their roles as moms and thrive in every season.
I can hardly believe all this conference has to offer:

How to find hope in motherhood
How to shape the hearts of your children
How to raise a healthy family
How to parent as a single mom
How to walk through infant/child loss
How to instill character education in your child
How to choose your child's education
How to manage life through the early years
How to reach the heart of your teens
In addition to transforming hearts and minds, we also get to enjoy:

A heart full of hope
Inspirational messages from keynote speakers
Times of worship and praise
Fellowship with friends, old and new
Shopping on historic downtown Market Street
Dessert lounge relaxation and amazing giveaways
Special surprise speakers
Relaxing Spa Packages for purchase available on the premise
Delicious meals you didn't have to prepare
Amazing gifts and flair from our conference sponsors
I'm especially looking forward to the keynote session by Lisa Jo Baker, as well as the sessions from Stephanie Langford on nourishing your family well.
If you are in the area, or able to travel to Upstate NY, I highly recommend this conference. I look forward to meeting you there!!!
March 21 & 22, 2014
Corning, New York