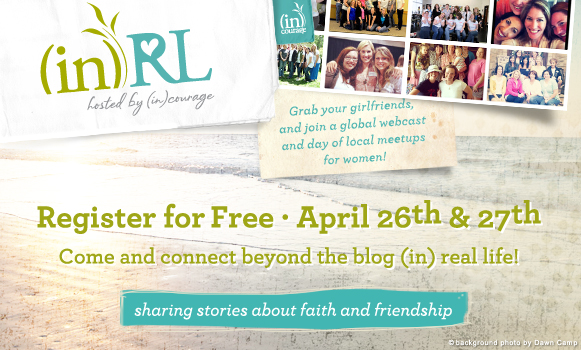 It's happening again, girlfriends! That conference that comes to your living room! All the fellowship and richness of a gathering of women, without having to purchase plane tickets, hotel room, or figure out how to leave your kids for a whole weekend!
I did this last year and had such a blessed time with 6 other sweet women in my living room. (I would totally post photos, but we were having so much fun, we forgot to take any of ourselves!) I'll be hosting again this year, and am excited to share with you that it's FREE this time around! And if you register today, there's a free gift (while supplies last). I can't say enough about this amazing event. You just gotta do it!
Here's a little trailer about (In) Real Life…if you keep your eyes peeled around min. 2:46, you may see someone you know…

If you're local to me, stay tuned for more info on the event I'll be hosting! I would LOVE to meet you and spend the day building community with you!